The role of acetylene detectors in chemical plants
Read: 142 Release time: 1/2/2020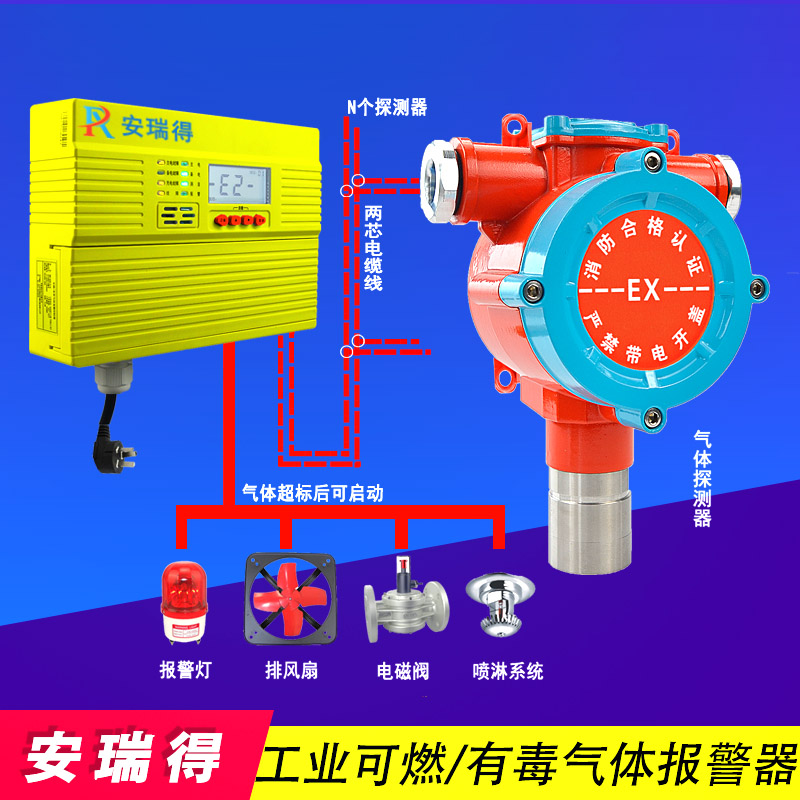 The danger of acetylene leakage is great. However, in some large workshops, acetylene gas is often used, so it is necessary to do a good job of monitoring acetylene.
Acetylene, commonly known as wind coal and calcium carbide, is a colorless, highly flammable gas at room temperature. It is mainly used for industrial purposes, especially for welding metals. Pure acetylene is odorless, but industrial acetylene has the smell of garlic because it contains impurities such as hydrogen sulfide and phosphine. When acetylene leaks, it will cause certain harm to the human body.
Pure acetylene is a slightly toxic type, which has a weak and prevent cell oxidation effect. At high concentrations, oxygen in the air is squeezed out, causing simple asphyxiation. Acetylene is often mixed with gases such as phosphine and hydrogen sulfide, so it is often accompanied by the toxic effects of such poisons. 100 mg/m3 能耐受 30 ~ 60 min , 20% 引起明显缺氧, 30% 时共济失调, 35% 下 5 min 引起意识丧失,含 10% 乙炔的空气中 5 h ,有轻度中毒反应。 Human exposure to 100 mg / m3 can tolerate 30 to 60 minutes , 20% cause significant hypoxia, ataxia at 30% , loss of consciousness at 5 minutes under 35% , and 5 hours in air containing 10% acetylene , mild Poisoning reaction. If animals inhale non-lethal concentrations of acetylene gas for a long time, hemoglobin, reticulocytes, lymphocytes increase, and neutrophils decrease.
It can be seen that acetylene is flammable and toxic. Once it leaks, it will cause serious losses and cause disasters. Therefore, in the workshop where acetylene gas is used in a chemical plant, an acetylene detector needs to be installed.
Acetylene detector is a professional instrument for detecting the concentration of combustible gas. It can monitor the concentration of acetylene gas in the air in real time. When the preset value is reached, the alarm will immediately send out an audible and visual alarm signal to remind people to evacuate or take emergency measures. Guaranteed the safety of the workshop.